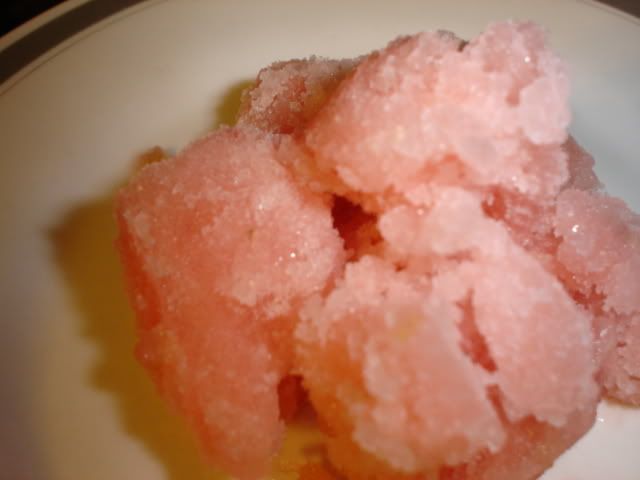 The weather's finally starting to fluctuate between cool and abysmally hot, which means at any given point in time I've got hot tea brewing and ice cream churning at the same time. Not a bad thing, mind you, but slightly schizo, if you ask me. I made these two delicous cold treats on the same day, and we ate ourselves into an ice-cream headache. Totally worth it. I don't have pics for the chocolate mint ice cream (it was scarfed too quickly). Sorry!
By now you should realize how ridiculously easy it is to make ice cream, if you have one of the new, handy-dandy ice cream makers that don't need salt and ice.
Watermelon Sorbet
1 large seedless watermelon
3/4 c agave nectar or, if you must, sugar

Blend watermelon and agave in blender till smooth. Freeze according to directions (about 25 minutes). Put in a separate bowl and let 'cure' in the freezer for another 2-3 hours, if desired.


Chocolate Mint Ice Cream
2 c coconut milk
1 c nutmilk
3/4 c agave nectar
1/4 c raw cacao (or 1/4 c chocolate chips)
several sprigs fresh mint (I like chocolate mint for this, but peppermint is dandy) or a few drops mint extract.

Blend all ingredients in your blender. Freeze in your ice cream freezer. Let cure for several hours in the freezer and top with magic shell, LOL.