29 April 2008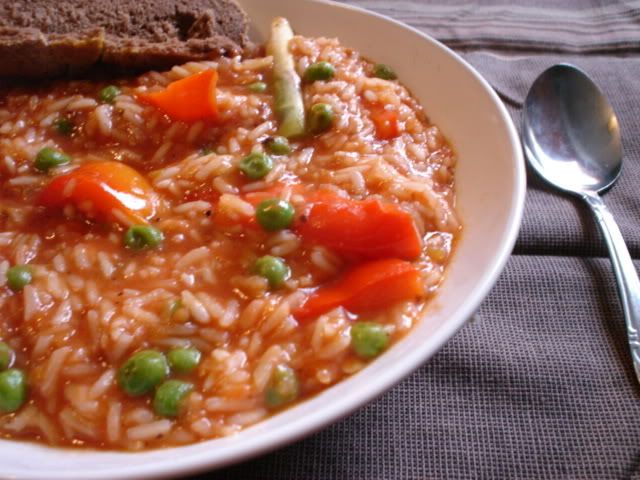 Rice commodities are rising, and are expected to continue to rise, so I thought I'd take a moment and make this classic dish before prices went into the stratosphere.
Paella comes from Spain, originally, taking its name from the Valencian word for 'frying pan' - it's usually made from vegetables, seafood, and meat, and liberally dosed with saffron and olive oil.
I was short on saffron tonight, so as you can see... I left it out.
It's usually cooked so that all the liquid is absorbed and the bottom forms this fantastic crust - my favourite part - but I was also short on time, and I thought that The Carnivore would react better to a 'stoup' - as Rachael Ray calls it - than a dryer consistency (which he usually refers to as 'a side dish').
Turns out he prefers to add a little ground beef to his paella - guess it's still a side dish - but the kids and I were loving it.
Here's the recipe for your perusal. Feel free to add saffron. Oh, and if you have time, let the rice completely absorb and form that crust. You won't regret it.
Vegetarian Paella
5 cloves minced garlic
1 large yellow onion, chopped
4 cups vegetable broth
2 cups rice
1 can crushed tomatoes 9or 4 large tomatoes, seeded and chopped and a generous 2-3 threads of saffron)
1 small red bell pepper, seeded and cut into thin strips
1 small green bell pepper, seeded and cut into thin strips
2 c asparagus, cut into small pieces
1 cup green peas
1 lemon
Heat the olive oil in a large frying pan and sauté the onion and garlic until the onion is tender and translucent. At the same time, heat the broth in a separate pan until simmering.
Pour the rice into the pan and sauté for about 3 minutes. Add the bell peppers and tomatoes and cook for a further 3 minutes. Add the simmering vegetable broth and cook over medium heat for 20 minutes or until almost tender and almost all the liquid has been absorbed. Stir in the peas and asparagus.
Squeeze the lemon over the rice. Continue cooking until the liquid has been absorbed and the rice is tender.
Serve the paella straight from the pan, garnished with lemon wedges.
Posted by

Slightly Off Balance
at 8:14 PM
No comments:
Links to this post


18 April 2008
I've always been a sucker for things wrapped in wontons and deep fried - really doesn't matter that I'd be in pain for several days afterward - I have never been able to resist the siren call of the egg roll, the spring roll, and the infamous crab rangoon.
Of course, finding out that the misery was due to a genetic disorder really put a damper on m love relationship with these delicacies - the specter of cancer doesn't really make them as appetizing... and my decision to stop eating pork and shellfish sealed the deal.
Did you know that most egg rolls/spring rolls have pork in them? And most crab rangoons contain... you guessed it - actual crab. Shocker, eh? And the rangoons that don't??? Well they contain fake crab, aka GLUTEN....
So I've been rangunless for a while now, and I just couldn't take it any more.
I decided to make a go of it and came up with these recipes. Dulse adds a seafood dimension to both the spring roll and the rangoon. Have fun!
WONTON WRAPPERS
If you're going to make your own dim sum, you need wonton wrappers. These are relatively easy and very quick to make, and they can be used anywhere traditional wontons are called for. This makes 16 wonton wrappers.
1 c Better Batter Gluten Free Flour
1 egg
2 Tbsp water (up to 4tbsp total - save 2)
In the bowl of your mixer, beat the egg and flour together, adding 2 tbsp of water. The mixture should stick together when pressed - like a stiff pasta dough. If it's too dry add up to 2 tbsp of water.
You'll want to heavily flour your rolling surface. Split the dough into four parts and flatten each into a square. Sprinkle the top of the dough heavily with flour and roll out until the square is 8 inches by 8 inches - it will be thin.
Take a knife or pizza cutter and cut the square into four smaller squares.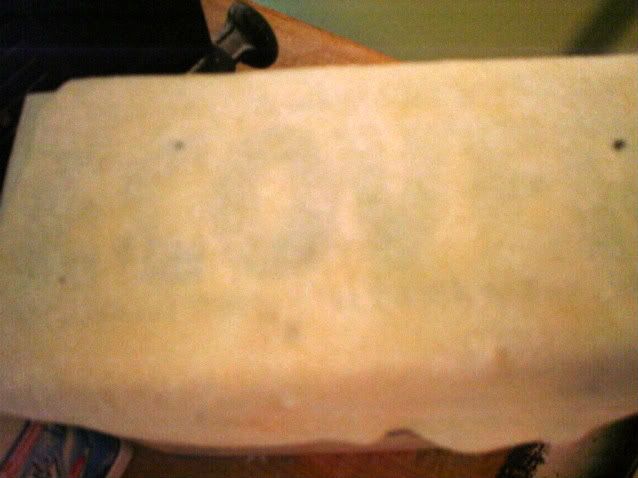 Now you can leave these squares as they are, but I think it's better to make the squares really, really thin. To do this you'll want to flour the rolling surface again, as well as the surface of the wrappers - don't worry that this will make them too dry - it will help combat the moisture of the filling. Roll them out until you can see through them - each square will be about 5 to 6 inches wide. I've included a rather ghetto picture of one of my wrappers on top of my ecover dishwashing tabs box, so you can see how thin the squares will be.
Use these anywhere you would use wonton wrappers.
Chinese Spring Rolls
It's a common misconception that spring rolls= rice wrappers with lettuce. Chinese Spring rolls differ very little from Chinese Egg Rolls - they're both fried parcels of cabbage wrapped in egg-dough wrappers. Not exactly what comes to mind when one thinks spring, I know. Still, these manage to taste fresh and light, which is a miracle in itself when you're dealing with anything deep fried. They're also extremely simple and require only easily available ingredients. Serve these as a meal in themselves, or as an accompaniment to any meal. This recipe makes 16 spring rolls.
2 c cabbage
1 c shredded carrots
1 onion, thinly sliced
1/2 c rice vinegar
1/2 c water
2 Tbsp dulse
1 clove garlic, grated or crushed
1/2 inch ginger, grated
2 Tbsp gf Tamari
dash hot chili pepper sauce
1 recipe Won Ton Wrappers
Mix the cabbage, carrots, onion, vinegar, water, dulse, ginger, garlic, tamari, and hot sauce in a bowl and let marinate overnight - you can let this soak for up to three weeks, and honestly I think it's better and tastes 'fresher' the longer it sits. Drain the mixture, squeezing it dry and reserve the liquid to make a dipping sauce.
Place a wonton wrapper on a floured surface. Working quickly, place about 3 Tbsp of the mixture on the wrapper, starting about 1/2 inch from the top and sides. Fold the sides of the wrapper in and quickly roll the wrapper into a sausage shape, enclosing the filling. Quickly dampen the edge of the wrapper with a wet finger and finish rolling the spring roll. Press lightly to seal and set aside. Repeat this process until you've used all of the wrappers and filling.
Heat at least 2 inches of oil in a wok or deep fryer. Fry up to three spring rolls at a time, until golden brown and crispy.
Meanwhile take the reserved liquid and add 1 tsp of either tapioca starch or cornstarch, and bring to a boil in a small saucepan. Let thicken and remove from heat - add salt to taste.
Serve the wrappers with dipping sauce.
Dulse Rang00ns
I couldn't take it anymore - I had to make some of those wickedly junk-food concoctions that I'm sure are pure Chinese-American junk food. Ranguns. Dulse gives a distinctly sea flavour to the cream cheese filling and deep frying makes these treats just like their restaurant counterparts. Don't be shocked by the inclusion of Worchestershire here - the basic ingredients of the stuff are staples in the asian kitchen. This recipe makes 16 ranguns.


4 oz cream cheese
1/4 c green onions, minced
1/4 tsp worchestershire sauce
1/4 tsp gf tamari
1 very small clove garlic, minced (about 1 tsp)
2 Tbsp Dulse
1 recipe Won Ton Wrappers
Beat the cream cheese, onions, sauce, tamari, garlic, and dulse together. Take 1 1/2 tsp of the filling and place in the center of each wonton wrapper. moisten the straight edges of the wrapper and,placing your fingers on each straight edge, press them together in the center, so that the corners form little pockets, or petals. This will take a few times to get exactly right.
Heat ta least 2 inches of oil in a wok or deep fryer and fry the rangoons a few at a time. Allow to cool for a few minutes before serving.
Posted by

Slightly Off Balance
at 9:49 AM
2 comments:
Links to this post


My adoptee of the month was
Kate of Gluten Free Gobsmacked!
Now, apparently I'm supposed to tell you a little about her - last month I neglected to do this (*sorry, Sea!) because.... well, frankly because I'm notoriously fuzzy with details. So here's my take on Kate:
Kate's a long time celiac (2000, right, Kate??) who's famous for her beautiful photography and creative recipes. One thing I've come to appreciate about Kate is her ability to weave a tale. Usually a food blog (especially mine) runs something like this: "Blahblahblahrecipedescription, recipe, pic" Not the most scintillating to read... Kate manages to bring a background into her tale, and I find myself reading her entire post, instead of skimming through and looking at the pretty pictures.
In fact it was her warm and personal style that led me to adopt her this month. Many of you who follow my blog -- when I'm posting regularly - know that I have my own gf flour blend, and so Kate's recipes, which rely heavily on her own mixes and a more traditional approach, might seem a little strange. At fist I thought it was a little strange, too...
But Kate always has options available! I pulled a fantastic
Tapioca recipe
from her blog, and let the magic roll. Now my pic looks nothing like her pretty pic, so I'll let you wander over there and peek - I'm sure it tasted every bit as good.
Kate's recipe varies from the traditional recipes in a few ways -- most appreciated on my list, the cinnamon sticks, which lent a spicy, clean taste to the tapioca without muddying it, like ground cinnamon would have. I'd never thought to add cinnamon to tapioca pudding, but I don't think I'll ever want to make it otherwise, now that I've been enlightened!
The other major difference: This tapioca is baked. I honestly had never heard of a baked tapioca pudding before - baked bread pudding, baked rice pudding... but never baked tapioca pudding. This made the pudding a little more custardy, which is perhaps why she recommends adding whipped cream to the pudding afterward. We didn't, which is perhaps why our pudding isn't prettiful like Kate's.
I never thought it would be possible to call a tapioca pudding decadent, but Kate proved me wrong. Way to go!
Posted by

Slightly Off Balance
at 9:29 AM
1 comment:
Links to this post