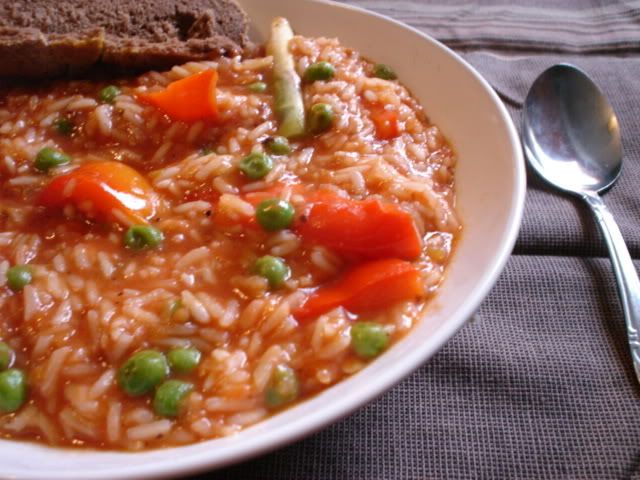 Rice commodities are rising, and are expected to continue to rise, so I thought I'd take a moment and make this classic dish before prices went into the stratosphere.
Paella comes from Spain, originally, taking its name from the Valencian word for 'frying pan' - it's usually made from vegetables, seafood, and meat, and liberally dosed with saffron and olive oil.
I was short on saffron tonight, so as you can see... I left it out.
It's usually cooked so that all the liquid is absorbed and the bottom forms this fantastic crust - my favourite part - but I was also short on time, and I thought that The Carnivore would react better to a 'stoup' - as Rachael Ray calls it - than a dryer consistency (which he usually refers to as 'a side dish').
Turns out he prefers to add a little ground beef to his paella - guess it's still a side dish - but the kids and I were loving it.
Here's the recipe for your perusal. Feel free to add saffron. Oh, and if you have time, let the rice completely absorb and form that crust. You won't regret it.
Vegetarian Paella
5 cloves minced garlic
1 large yellow onion, chopped
4 cups vegetable broth
2 cups rice
1 can crushed tomatoes 9or 4 large tomatoes, seeded and chopped and a generous 2-3 threads of saffron)
1 small red bell pepper, seeded and cut into thin strips
1 small green bell pepper, seeded and cut into thin strips
2 c asparagus, cut into small pieces
1 cup green peas
1 lemon
Heat the olive oil in a large frying pan and sauté the onion and garlic until the onion is tender and translucent. At the same time, heat the broth in a separate pan until simmering.
Pour the rice into the pan and sauté for about 3 minutes. Add the bell peppers and tomatoes and cook for a further 3 minutes. Add the simmering vegetable broth and cook over medium heat for 20 minutes or until almost tender and almost all the liquid has been absorbed. Stir in the peas and asparagus.
Squeeze the lemon over the rice. Continue cooking until the liquid has been absorbed and the rice is tender.
Serve the paella straight from the pan, garnished with lemon wedges.