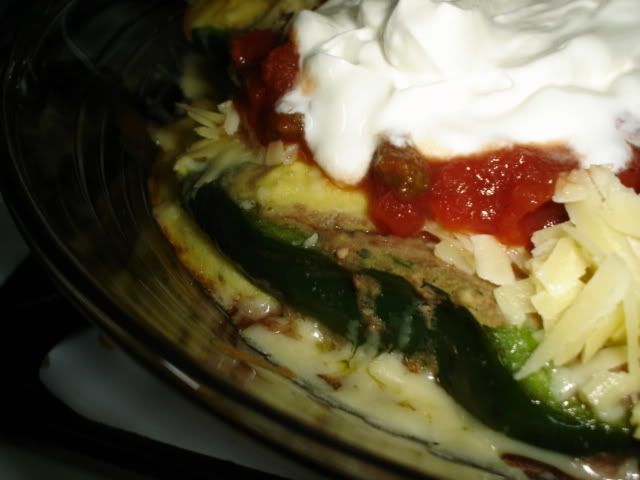 Of course pepper season is upon us, and I was really excited (and in the mood for) some serious mexicano fixin's. Chiles Rellenos is something I always order when out.... and usually find disappointing. Most of the time I get a slimy, soggy, greasy sodden mass of cheese and egg on a mush-thats-supposed-to-be-peppers.
There are exceptions. One night, coming home on a winding, mountain back road from a celiac support group that was several hours from my house, I stumbled on a little diner. I walked in, expecting to order my traditional "
salad, no croutons PLEASE with a side of fries, but only if they've been in a dedicated fryer and by the way can I see the seasoning on them?
" and found instead
Rellenos Nirvana
. I highlight the words because the food was that good.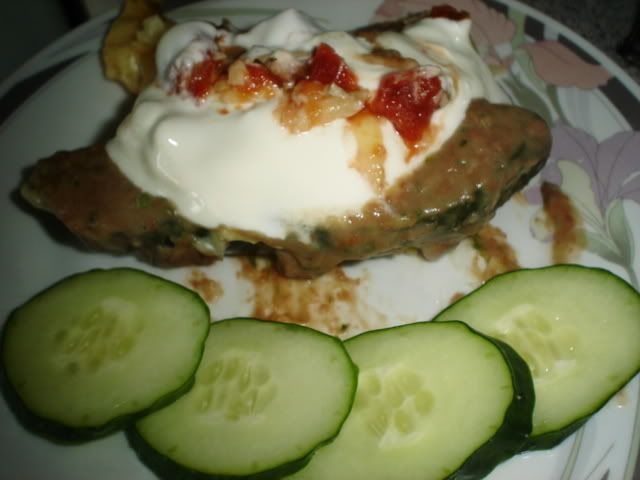 Turns out this hole in the wall is the property of a native Mexicana and OH MY GOSH could that woman cook. Real mexican food (and gluten free???) in Pennsylvania? There is a God.
I'd try to describe the dish, but really I was in a haze of food ecstasy and only remember flashes of brilliance -- it is those flashes that I tried to recreate here.
Anywhoodles, what you need to know is that this meal was so delicious and easy that it deserves a special place in my recipe collection. Slightly softened Poblano chiles highlight fresh bean puree, seasoned with fresh herbs. Coriander provides a hidden, special flavour accent. A light batter poured on top of the chiles and baked helps lighten the dish, somewhat, before cheese and sour cream weigh it down.(Hey, they help take the heat...and the migraine...was totally worth it).
For a special flavour, try using a good Gouda cheese (like Vincent). The nutty flavour brings out the taste of the batter.
One note about chiles: Poblano, the most commonly used chiles for Rellenos
vary widely from pepper to pepper in heat. For this reason, I don't reccomend adding additional cayenne or other spicy seasonings to the dish. If you find the dish too milk for your taste, load on some hot sauce and go to town!
Feel free to use dried herbs, but remember to reduce the amount by at LEAST half.
Here's the Recipe:
Chiles Rellenos


4 Poblano Peppers (use large chiles), green peppers will do, but won't be as good
2 tbsp coconut oil
cumin

2 1/2 cups cooked or canned abichuelas rosadas (pink kidney beans)-- feel free to use any bean
Several teaspoons fresh cilantro
1 teaspoon fresh coriander ( you can use 1/4 tsp dried)
several teaspoons fresh oregano
several teaspoons fresh parsley
1 teaspoon salt ( we use sea salt)

3 eggs
3 tbsp Better Batter Gluten Free Flour

4 ounces Gouda Cheese, or feel free to use any mild, white cheese
1/2 cup sour cream
salsa

Preheat oven to 400 degrees.

1. Heat the coconut oil in a heavy saucepan. Cut the peppers in half and seed and de-vein them. Fry the peppers in the oil ONLY until the peppers blister. Sprinkle with cumin, remove from heat, and place in a casserole dish.

2. In your blender mix the beans, herbs, and salt.

3. Spoon this mixture into the peppers, filling completely.

4. Mix together the egg and flour and pour over the peppers. This will be thick. Feel free to thin it with a bit of water to preference.

5. Place casserole in the oven and cook for 15-30 minutes, or until batter sets and peppers are softened to your preference (we like them still firm...al dente).

6. Remove from oven, top with cheese, sour cream, and salsa, and serve.