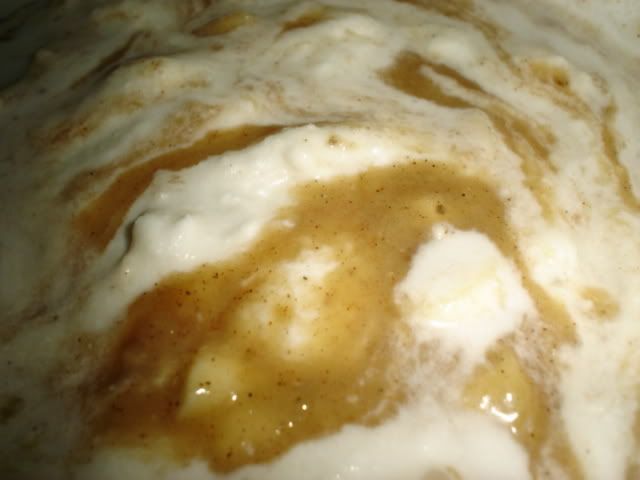 Yeah, so that's a really zoom up of the picture. But Good Golly Miss Molly, do you see how luscious that ice cream is? And it's dairy free. I have to crow a bit because the Carnivore took a single bite and exclaimed (
exclaimed
, mind you!!!) "That's good!"
High praise, indeed, from the man who
might
possibly say "That's decent" for something utterly divine. If the Carnivore calls it good, it's really good. Company good. Forget-company-and-shag-your-wife good.
Anyway, I think you'll like this one: it's easy, quick, and as I said before, DAIRY FREE!!!! (Having such a happy summer, I am). That 50.00 ice-cream maker was soooo worth it.
Bananas Foster Ice Cream
1 Cup Nut Milk (feel free to use rice milk)
2 Cups Coconut Milk, full fat
3/4 cup agave nectar
2 tsp vanilla
3 large bananas
1 tsp cinnamon
1/4 c golden rum

In your blender, mix the milks, agave nectar, and vanilla. Freeze according to your manufacturer's instructions (mine takes 30 minutes), or pour into a bowl and freeze, beating every 15 minutes for three or so hours.

Clean your blender.

Place two bananas and the cinnamon and rum in the blender and blend til smooth.

Cut up the remaining banana into small dice and mix into the smooth sauce.

Remove the ice cream from the mixer and fold the banana sauce into the soft ice cream. Place in the freezer (top with an airtight seal or plastic wrap) and freeze til firm.