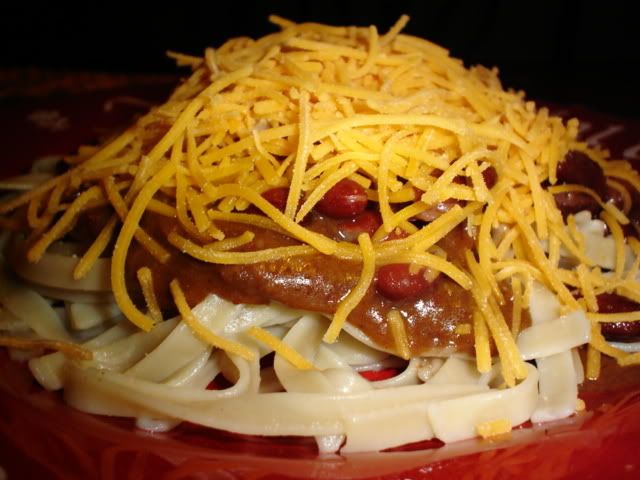 According to legend, Cincinnati Chili was created by a Middle-Eastern immigrant who combined his favourite spices with meat sauce, put the conglomeration on top of pasta, added traditional 'chili' accompaniments, and marketed it well.
Whatever the truth of the matter, Cincinnati Chili is a unique and fabulously delicious meal - a filling combination of sweet and savoury with a tiny 'kick' of spice.
Real 5 alarm chili is made with a copious amount of ground beef, which is cooked in the highly spiced tomato sauce, producing a thick, very fine texture. Obviously, any vegetarian recipe is going to omit the beef. I've seen plenty of recipes which skirt this difficulty by using ground soy crumbles. Since we don't do soy in almost any form (except fermented wheat free soy sauce), this presented a problem.
I decided against using my favourite eggplant/walnut 'meat' combination, because I feared the combination of the eggplant with the spices, which truly are middle-eastern (in part) would make the dish taste too much like mousakka.
I experiemented with a number of options, but in the end, I settled for making a nice 'bean-paste roux' and using it to thicken the sauce. This allowed the flavour of the spices to shine through while giving the sauce a little more 'body' and stick-to-your-ribs protein.
My family adored it, and no-one complained about the meat. If you're not opposed, feel free to stir in soy crumbles, or heck! Use Ground beef. Either way, this is the best Cincinnati chili you'll find outside of the state.
FYI: The 'alarms' in a 5 alarm chili are the following. I have it on good authority that for an authentic 5 alarm chili (or in this case 4 1/2 alarm) , one simply 'must' add the toppings in the order listed. Of course, I ignore all of this, but hey...:
2 Alarm
Pasta topped with Cincinnati style chili
3 Alarm
Pasta, Chili, Sharp Cheddar Cheese (and don't skimp on the cheese!)
4 Alarm
Pasta, Chili, Cheese, Chopped Onions
5 Alarm
Pasta, Chili, Cheese, Onions, Kidney Beans
And now, here's the recipe:
Cincinnati-Style 4 1/2 Alarm Chili

2c cooked kidney beans, divided
1 c oil
2/3 c Better Batter Gluten Free Flour
1 1/2 c minced onion
1 clove minced garlic
1 tbsp chili powder
1 tsp ground allspice
1 tsp ground cinnamon
1 tsp ground cumin
1/4 tsp cayenne pepper
1/2 tsp salt
1 1/2 tbsp cocoa
1 15oz can diced tomatoes with chilis
1 tbsp Worcestershire sauce
1 tbsp apple cider vinegar
1 c water


Cooked pasta
Sharp Cheddar Cheese
onions
kidney beans


In a blender, combine the 2c kidney beans and flour and blend til smooth.

In a large pot, heat the oil. Add the bean paste and cook, stirring, until the bean paste absorbs most of the liquid and begins to thicken. You'll need to scrape the bottom of the pan continuously.

Add the rest of the seasonings, ending with the water. Simmer, uncovered, for at least an hour or up to three hours.

Serve on top of pasta, with toppings, if desired.